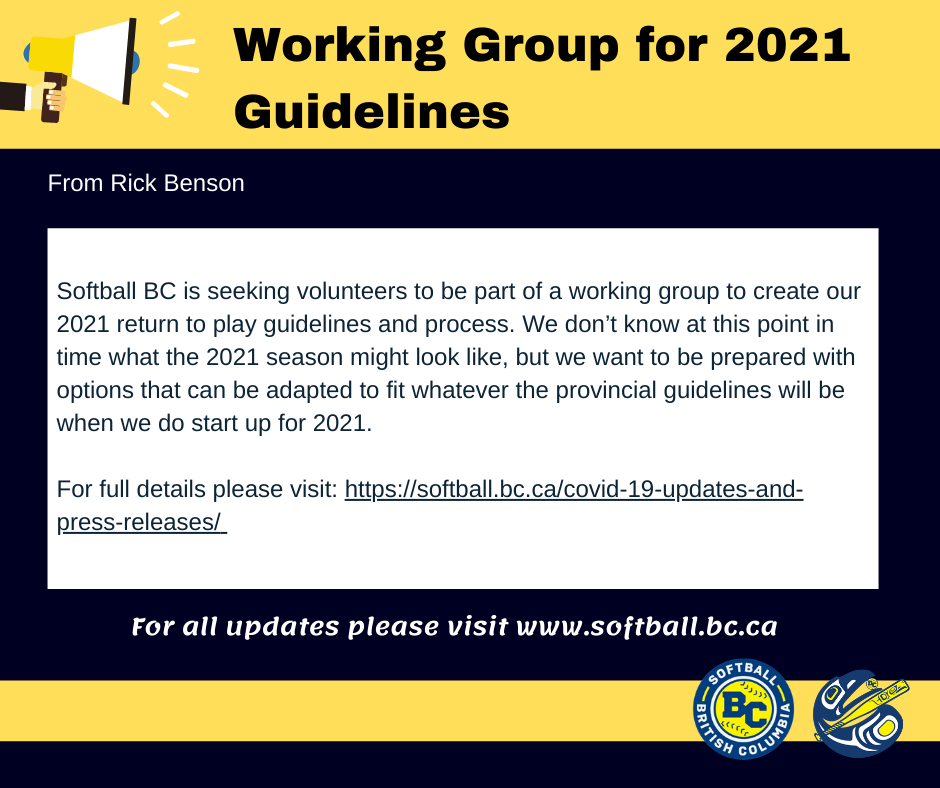 WORKING GROUP FOR 2021 GUIDELINES
Softball BC is seeking volunteers to be part of a working group to create our 2021 return to play guidelines and process. We don't know at this point in time what the 2021 season might look like, but we want to be prepared with options that can be adapted to fit whatever the provincial guidelines will be when we do start up for 2021.
Among the objectives we want to achieve are
Review the Return to Bases Guidelines and update to reflect current conditions
Create options for regular season schedules and participation for all age categories and classifications, including youth and adult
Format for Provincial Championships under health restrictions
We will be meeting virtually during the month of January, with the goal of providing a set of guidelines and process to the board for approval in February.
I will be chairing the working group, and ideally would like to have representation from all BC Summer Games Zones - Kootenays, Okanagan/ Thompson, Fraser Valley, Surrey/Burnaby/Tri Cities, Delta/Richmond/Vancouver/North Shore, Vancouver Island, Northeast BC, Northwest BC.
Please send me an email (rbenson@softball.bc.ca) indicating your interest in being part of the working group by December 18th
I will select the group from those who apply and send you details for our meetings and communication channels.
Thank you in advance for volunteering to help create safe options for our members to take part in softball games and activities in 2021.
Rick Benson
CRITERIA FOR TRAVELLING TO SOFTBALL PRACTICES
NOVEMBER 23, 2020
** Effective immediately**
Individual travel to attend team practices/training sessions - Under the current provincial health order, Softball BC is revising their definition for travel by coaches and/or athletes to team activities. Until midnight, December 7th, or as advised by the Provincial Health Office (PHO), individuals may not travel outside their own community to attend team activities. Community is defined as your principal residence. For clarity, areas such as Langley and Township of Langley, or Coquitlam, Port Moody, and Port Coquitlam will be considered the same community when attending team activities. The intent of the public health order is to restrict travel to remaining local. At this time, we have not received a definition on local travel for individuals, and so we have decided to remain cautious in our interpretation. If we do receive further clarification from ViaSport, we will advise the membership accordingly.
Team training sessions are restricted to the community in which the team is registered. Teams may not travel outside their local community to take part in practices or training sessions under the requirements of this health order.
As a reminder
Inning Three protocols are still in place and should be carefully followed
Attendance tracking
Screening before entry to the facility
Physical distancing whenever possible
Frequent sanitizing
For indoor activities masks are mandatory for all participants
For indoor activities, no spectators allowed